Belmont University: An Introduction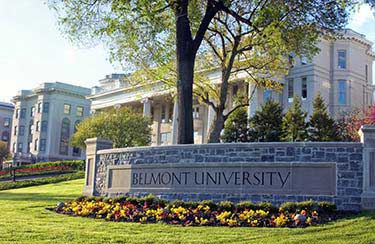 Belmont University is a student-centered Christian community providing an academically challenging education that empowers men and women of diverse backgrounds to engage and transform the world with disciplined intelligence, compassion, courage and faith.Fundamental to that vision are faculty who bring immeasurable life experience and knowledge to share with students on a historic campus that thrives in one of the most popular cities in the Southeast.
A comprehensive university grounded in liberal arts, Belmont enrolls more than 7,300 students. It is the second largest private college or university in Tennessee and enjoys a reputation for academic excellence. In addition to undergraduate degrees in 90 major areas of study, the university offers master's degrees in Accountancy, Business Administration, Education, English, Music, Nursing, Occupational Therapy, Sport Administration and Audio Technology; a Doctorate of Occupational Therapy, Doctorate of Physical Therapy, Doctorate in Pharmacy, Doctorate in Nursing Practice, and a Juris Doctor.
The beautiful Nashville campus reflects a long, rich history that dates back to the 19th century, when the grounds were known as Adelicia Acklen's Belle Monte estate. The antebellum mansion remains, with Victorian gardens, statuary and gazebos that serve as reminders of a treasured past. Modern university buildings erected a century later house state-of-the-art learning facilities where students prepare for challenges of the 21st century.
Women's schools preceding the current comprehensive institution of higher learning include the original Belmont College (1890-1913) and Ward-Belmont (1913-1951). In 1951, the Tennessee Baptist Convention founded the second Belmont College (1951-1991) with an initial coeducational enrollment of 136 students. Soon after celebrating 100 years of education on the same campus, the institution became a university in 1991, culminating a decade of dramatic growth and progress.
Belmont University is committed to continuous improvement, assuring students of the best educational experience possible. The institution encourages listening and learning from everyone. Thus, the educational process is ongoing for faculty and staff as well as for students. The success of Belmont is grounded in its tradition of fostering lifelong learning.
As a school founded on Christian principles, Belmont University believes in the potential of every individual to make a positive, meaningful difference in this world. Therefore, the educational focus is not just concerned with the mastery of conventional academics but also with the developmental process for the whole person. The ideal Belmont community member is one who puts knowledge into action for the betterment of others.
Back to Top
Belmont University offers the following graduate programs. For more specific details, see the sections of this bulletin where each program is described.
Jack C. Massey College of Business
Master of Accountancy
Master of Business Administration
Mike Curb College of Entertainment and Music Business
Master of Science
   Audio Engineering Technology
College of Health Sciences
Master of Science in Nursing
Doctor of Nursing Practice
Master of Science in Occupational Therapy
Doctor of Occupational Therapy
Doctor of Physical Therapy
Doctor of Pharmacy
College of Law
Juris Doctor
College of Liberal Arts and Social Sciences
Master of Arts
   English
Master of Education
   Learning and Organizational Change
   Organizational Leadership and Communication
   Non Profit Leadership
Master of Arts in Teaching
   Licensure Tracks
Sport Administration
College of Theology and Christian Ministry
Master of Arts
   Mental Health Counseling
College of Visual and Performing Arts
Master of Music
   Church Music
   Music Education
   Pedagogy
   Performance
   Composition
   Commercial Music
---
Belmont University is accredited by the Southern Association of Colleges and Schools Commission on Colleges to award baccalaureate, masters and doctoral degrees. Contact the Commission on Colleges at 1866 Southern Lane, Decatur, Georgia 30033-4097 or call 404-679-4500 for questions about the accreditation of Belmont University.
Undergraduate degrees granted by Belmont University include: Bachelor of Arts (B.A.), Bachelor of Science (B.S.), Bachelor of Business Administration (B.B.A.), Bachelor of Fine Arts (B.F.A.), Bachelor of Music (B.M.), Bachelor of Science in Nursing (B.S.N.) and Bachelor of Social Work (B.S.W.). Belmont also offers masters degrees in Accountancy (M.ACC.), Business Administration (M.B.A.), Education (M.Ed.) (M.A.T.), English (M.A.), Music (M.M.), Nursing (M.S.N.),  Sport Administration (M.S.A.), and doctoral degrees in Physical Therapy (D.P.T.), Occupational Therapy (O.T.D.), Pharmacy (Pharm.D.), Law (J.D.), Nursing (D.N.P.), and Audio Technology (M.S.).
Belmont University School of Music is an accredited institutional member of the National Association of Schools of Music (NASM).
Belmont University is a member of the American Association of Colleges of Nursing, the National League for Nursing and the Southern Regional Education Board. The master's program at Belmont University is accredited by the Commission on Collegiate Nursing Education (CCNE), One Dupont Circle, NW, Suite 530, Washington, DC 20036 and approved by the Tennessee Board of Nursing.
Belmont University is a member of the American Association of Colleges for Teacher Education and the Association of Liberal Arts Colleges of Teacher Education. It has the approval of the State Board of Education of Tennessee as a teacher education institution to meet licensure requirements.
Belmont University is a member of the National Council for the Accreditation of Teacher Education (NCATE).
Belmont University graduate and undergraduate business and accounting programs are accredited by AACSB - International (the Association to Advance Collegiate Schools of Business).
Belmont University has full accreditation status by the American Occupational Therapy Association's Accreditation Council for Occupational Therapy Education (ACOTE).
The Doctorate of Physical Therapy Program at Belmont University is accredited by the Commission on Accreditation in Physical Therapy Education (CAPTE), 1111 North Fairfax Street, Alexandria, Virginia 22314; telephone: 703-706-3245; email: accreditation@apta.org; website: http://www.capteonline.org.
The Belmont University Doctor of Pharmacy is accredited by the Accreditation Council on Pharmacy Education (ACPE), and holds ACPE Candidate status within the organization's multi-stage review process.
---
The Graduate Bulletin represents the offerings and requirements in effect at the time of publication, but there is no guarantee that they will not be changed or revoked. The course offerings and requirements of the institution are continually under examination and revision. However, adequate and reasonable notice will be given to students affected by any change. This Bulletin is not intended to state contractual terms and should not be regarded as a contract between the student and the institution. The institution reserves the right to change any provision, offering or requirement to be effective when determined by the institution. These changes will govern current and readmitted students. Enrollment of all students is subject to these conditions.
Affiliations and Standards
FERPA (Family Education and Privacy Act)

http://www.belmont.edu/registrar/FERPA.html

Tennessee Independent College and University Association (TICUA)
Belmont University is a member of TICUA. http://www.ticua.org/
Student Complaint and Grievance Procedures
Belmont University Internal Processes


If a Belmont University student has a grievance regarding the student's academic division or an administrative procedure the student has the right to request a review of his or her particular situation. The student must first attempt to resolve the problem by contacting the relevant department directly and requesting a review of his or her situation. If the grievance is not resolved by contacting the department directly the student should follow up with an e-mail to the representative of that department / area and detail the concern so that the student's concern is documented. The recipient of the e-mail, or an appropriate area designee, will respond in a timely manner.
Because the University already has several published policies and mechanisms for dispute resolution in place, students who contact the Dean of Students Office may be redirected (back) to the Dean of the relevant academic college or area if it is clear that the process and response were reviewed appropriately and in keeping with the published process; for example grade appeals, etc. (see: http://www.belmont.edu/catalog/undergrad2013jun/apolicy/ap_as.html) in these cases the college or area decision and response may be deemed final. 
After contacting the appropriate department directly and receiving a final response as described above, any student who still believes he or she has been treated unfairly by a university employee or process, may seek review with possible alternative resolution through the Dean of Students office. "Unfairly" means there was no process of review as described above or in a University publication; or adequate explanation of the final disposition to the student's grievance; or there was a noted bias on the part of the decision maker, which affected the decision.
Students may file a formal complaint by e-mailing deanofstudents@belmont.edu describing the treatment, action, final decision given by the academic or administrative area and the remedy still sought. Complaints will be investigated and / or referred to other offices as necessary. A written response regarding the issue will be sent to the student who initiated the complaint within 30 days.
The Associate Provost and Dean of Students serves as the primary coordinator of response and support to students with concerns or those students experiencing a crisis. Please see the Bruin Guide, page 62. http://www.belmont.edu/studentaffairs/student_conduct_academic_integrity/bruinguide/index.html
Students should first seek a resolution through the institution's procedures above. Grievances that are not resolved internally and may involve state consumerism, state licensing boards, or accreditation may be addressed by following the links provided below.
State of Tennessee Complaint Procedures


Should the institution not be able to resolve the student complaint, the student has the right to contact the state of Tennessee and its appropriate agency to determine the course of action. Complaints can be filed with the following agencies in Tennessee:
Complaints related to the application of state laws or rules related to approval to operate or licensure of a particular professional program within a postsecondary institution (college / university) shall be referred to the appropriate State Board (i.e., State Boards of Health, State Board of Education, etc.) within the Tennessee State Government. It shall be reviewed and handled by that licensing board http://www.tn.gov, and then search for the appropriate division);  
 
Complaints related to state consumer protection laws (e.g., laws related to fraud or false advertising) shall be referred to the Tennessee Division of Consumer Affairs and shall be reviewed and handled by that Unit http://www.tn.gov/consumer/ .
Southern Association of Colleges and Schools Commission on Colleges (SACSCOC) Procedures


Allegations regarding noncompliance with accreditation standards, policies, and procedures may be referred to SACSCOC, 1866 Southern Lane, Decatur, GA 30033-4097.  (The Commission's complaint policy, procedure and the Complaint form may be found on their website at: http://www.sacscoc.org/pdf/081705/complaintpolicy.pdf .